What we offer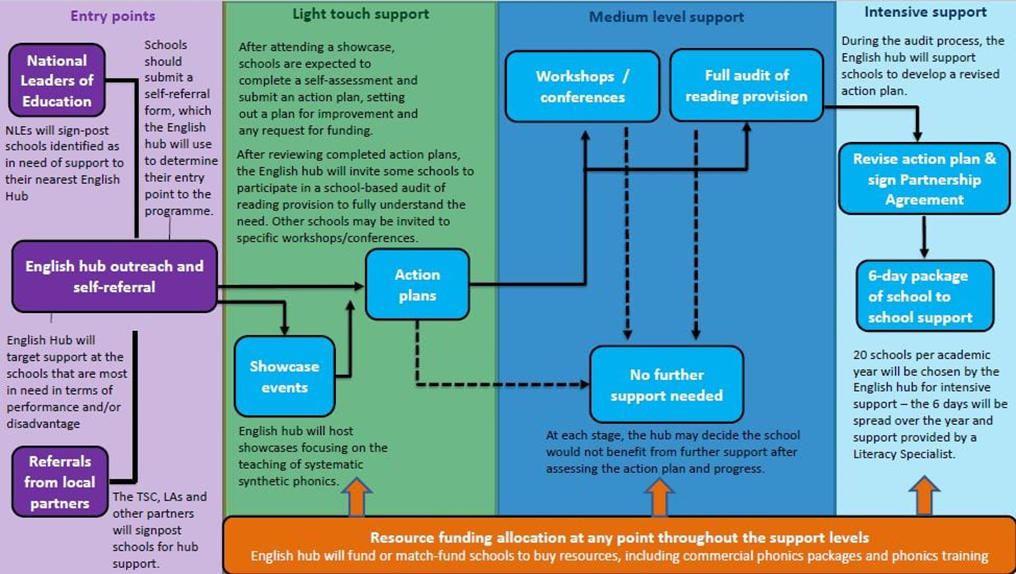 ---
An in depth audit of your current phonics provision by a member of our English Hub Team
A 'deep dive' into your early reading and SSP provision,(including a decodable book audit) which will allow us to collaboratively amend your action plan.
Post audit, schools may access funding for training or resources through the hub based on audit findings.
---
Accredited SSP training
Funding allocated towards booking SSP training for key staff members.
Up to £6000,fully funded, or £3000,matched funded, can be offered if your school is eligible under a certain criteria.
---
Medium Touch Support
Yorkshire Endeavour host events including regional conferences and workshops, focusing on the 3 aims of the English hub, incorporating specific elements of the 'Challenge Checklist'.
Our hub can also provide bespoke action planning or leadership coaching days subsequent to our audit visits.
Schools will receive £250 to cover supply costs.
---
Showcase Events
The Yorkshire Endeavour English Hub host free Showcase events in several locations across our region to demonstrate effective SSP and early reading teaching a selection of schools excelling in this field. There are two places available per school,  one, compulsory for the Headteacher and the other the Reading Leader.
£250 will be paid per school to cover release/travel costs and the writing of an action plan. This will only be reimbursed upon receipt of a school's Action Plan following the event, and the compulsory attendance to the Showcase by the Headteacher.
Delegates will see the teaching of early language and reading, including phonics, in the EYFS and Key Stage 1. You will observe:
How elements of the 'Challenge Checklist' are embedded throughout the school;
Best SSP and early reading practice in action;
How schools ensure that a love of reading is nurtured and developed.
Time will be taken to:
Reflect on your own school's reading journey;
Develop an action plan;
Look at next steps in potentially accessing English Hub funding for resources, training and more in-depth support.
---
Phonics resources including decodable books
Funding allocated towards phonics resources including decodable books. Resources must be approved by a member of the English Hub Team.
Up to £6000,fully funded, or £3000, matched funded, can be offered if your school is eligible under a certain criteria.
---
6 days of intensive support from one of our Literacy Specialists 2020-21
Following your commitment to the 'Partnership Agreement' and training to one specific SSP programme, partner schools will receive intensive support over 6 days with the aim to improve outcomes in Communication and Language and early reading (PSC).