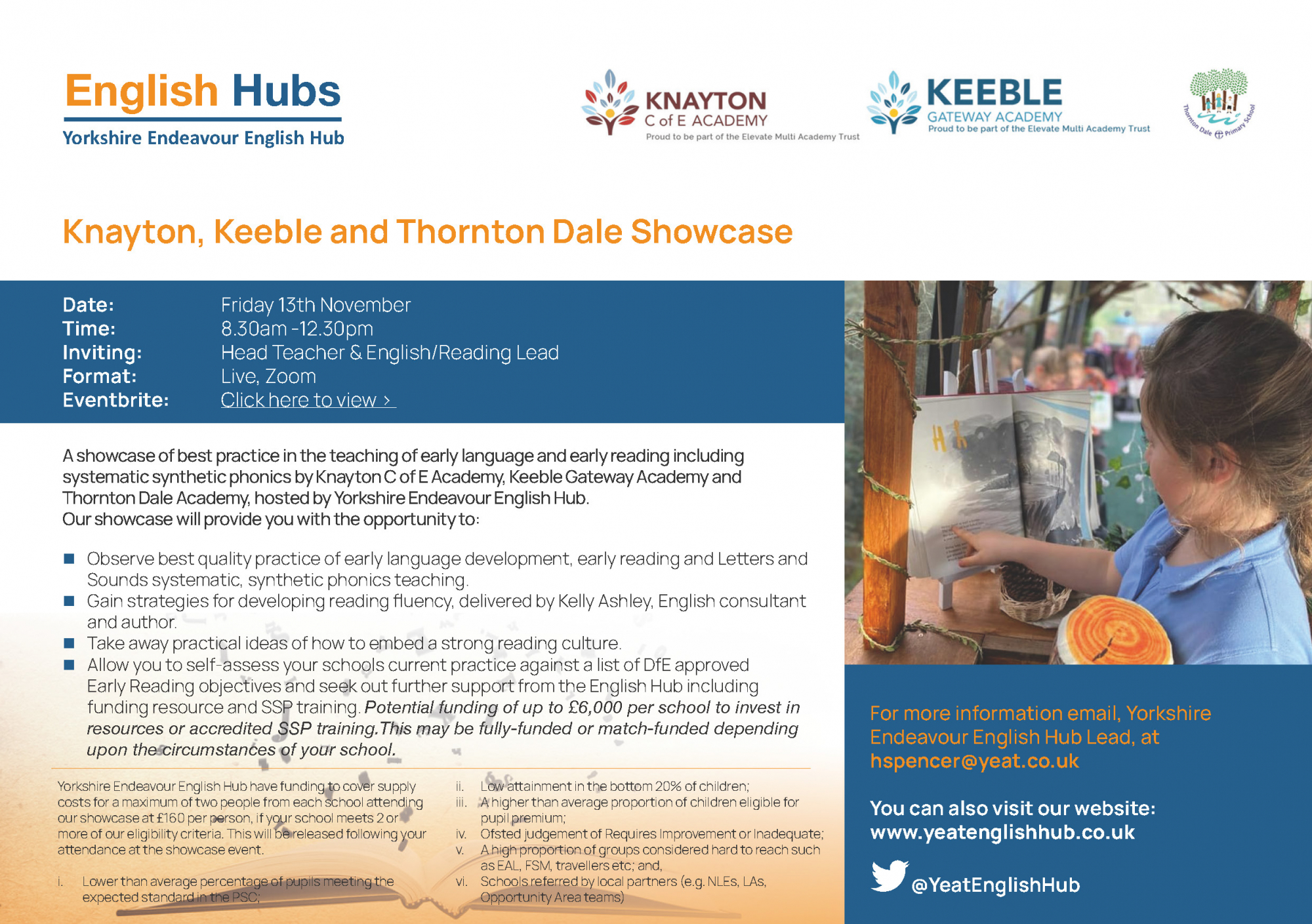 A showcase of best practice in the teaching of early language and early reading including systematic synthetic phonics by Knayton C of E Academy, Keeble Gateway Academy and Thornton Dale Academy, hosted by Yorkshire Endeavour English Hub.  
Our showcase will provide you with the opportunity to:
Observe best quality practice of early language development, early reading and Letters and Sounds systematic, synthetic phonics teaching.
Gain strategies for developing reading fluency, delivered by Kelly Ashley, English consultant and author.
Take away practical ideas of how to embed a strong reading culture.
Allow you to self-assess your schools current practice against a list of DfE approved
Early Reading objectives and seek out further support from the English Hub including funding resource and SSP training. Potential funding of up to £6,000 per school to invest in resources or accredited SSP training.This may be fully-funded or match-funded depending upon the circumstances of your school.
---
Yorkshire Endeavour English Hub have funding to cover supply costs for a maximum of two people from each school attending our showcase at £160 per person, if your school meets 2 or more of our eligibility criteria. This will be released following your attendance at the showcase event.
Eligibility Criteria:
i. Lower than average percentage of pupils meeting the expected standard in the PSC;
ii. Low attainment in the bottom 20% of children;
iii. A higher than average proportion of children eligible for pupil premium;
iv. Ofsted judgement of Requires Improvement or Inadequate;
v. A high proportion of groups considered hard to reach such as EAL, FSM, travellers etc; 
vi. Schools referred by local partners (e.g. NLEs, LAs, Opportunity Area teams)